Geo Solutions for:

Home Owner / Residential
Geo Solutions: Home Owner / Residential
What is the Geo Solution to geothermal for the homeowner?
Geo Solution's approach is to partner with the housing developer and builder to provide the geothermal infrastructure on a development wide basis for affordable geothermal systems in new home construction.
Will my home cost more because of the geothermal system?
No added up-front costs or investment on the part of the homeowner for the geothermal system. The upfront cost of the geothermal system is borne by Geo Solutions. This leaves more of your funds available for other cost of new home ownership or reduction of your total mortgage while still having the benefits of geothermal energy.
Does Geo Solutions geothermal qualify for tax credits?
With the Geo Solutions, geothermal related costs inside of your new home qualifies for a 30% Federal Tax Credit. You can apply this credit on your next tax return. if needed, this credit can be rolled forward to future years. The credit can range from $3,000 to $6,000 or more, depending on the size of home.
What about ongoing costs?
From day one of home ownership you will be saving on your utility bill because of the geothermal system. The savings on utility bills more than covers the cost of the geothermal fee. The fee for the geothermal energy is part of the Homeowners Association fee.
Am I protected from spiraling future energy costs?
There will be no increase in the geothermal fee, even when electricity or natural gas prices rise the geothermal fee will remain constant.
What is the energy savings from a geothermal system?
Typically, geothermal systems will reduce total energy consumption from utility companies by about 50%.
Since geothermal heat pumps are generally more efficient, less expensive to operate and maintain – typical annual energy savings range from 30% – 60% (source:energysavers.gov)
How much will I save on utilities on an ongoing basis?
Each homeowner's utility consumption is different because of differences in how we live, how many family members we have, how many or how large our appliances or televisions are, etc.
For example: If the total energy cost in your home with a conventional HVAC system is $200/month, with a Geo Solution, geothermal system, the energy cost would look like this:
Convention HVAC system $200 per month
Geo Solutions approach

$100/month average gas & electricity
$60/month for geothermal energy through Homeowners Association
$160/month total energy cost*

Savings $40/month x 12 month = $480/year
* For illustration purposes only, each homeowners results will depend on his specific utility use activities and conditions.
What do existing homeowners with geothermal say?
According to Department of Energy, survey of customer satisfaction with heating systems, geothermal heat pump users had the highest satisfaction of all users surveys, with a rating of 89 percent.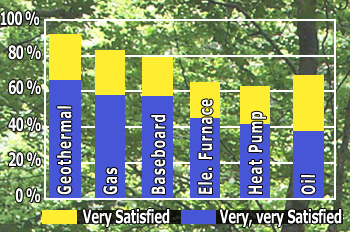 What other improvements does Geothermal offer?
Improved Reliability:
Indoor installation – no outside equipment
50-year manufacturer's warranty on external coil system with no moving parts
Geothermal heat pump has average life of 20+ years much longer than conventional HVAC systems
Improved Comfort:
Constant air temperature, eliminating hot and cold spots
System is quiet, no noisy outdoor fans or compressor
Are there other benefits?
Higher resale value and higher appraised value when you sell your home.
Less maintenance, fewer mechanical components and no outdoor moving parts.
Is Geothermal Environmentally sound?
Over 70% of the energy required to operate a geothermal system to provide the heating, cooling and hot water comes from the sun's energy stored in the earth.
Home owners will reduce energy use from fossil fuels by up to 50% and correspondingly reduce their carbon footprint.
No greenhouse gases (carbon dioxide) are emitted by the geothermal heat pump.
Is it safe?
No home heating and cooling system is safer. There are no emissions of gas or fumes. Heating and cooling is provided without presence of a flame.
| | |
| --- | --- |
| NO FLAMES | NO FUMES (CARBON MONOXIDE) |